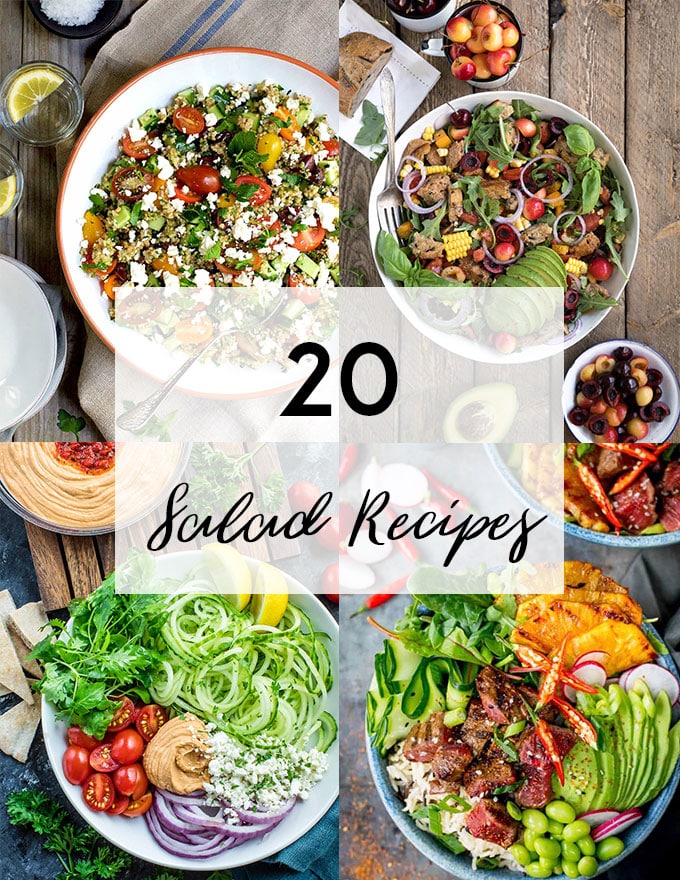 We have all had that moment in the past few weeks where we think to ourselves, "oh s#@%… summer is almost here!" It's time to accept that the holidays are over, and you can't use them as an excuse to eat an entire package of Oreos while lounging in bed anymore. There's one problem: healthy food is bland and unsatisfying, right? Think again! I've rounded up 20 recipes for some knock-out salads that are packed with color, flavor, and sustenance. Summer bod, here we come!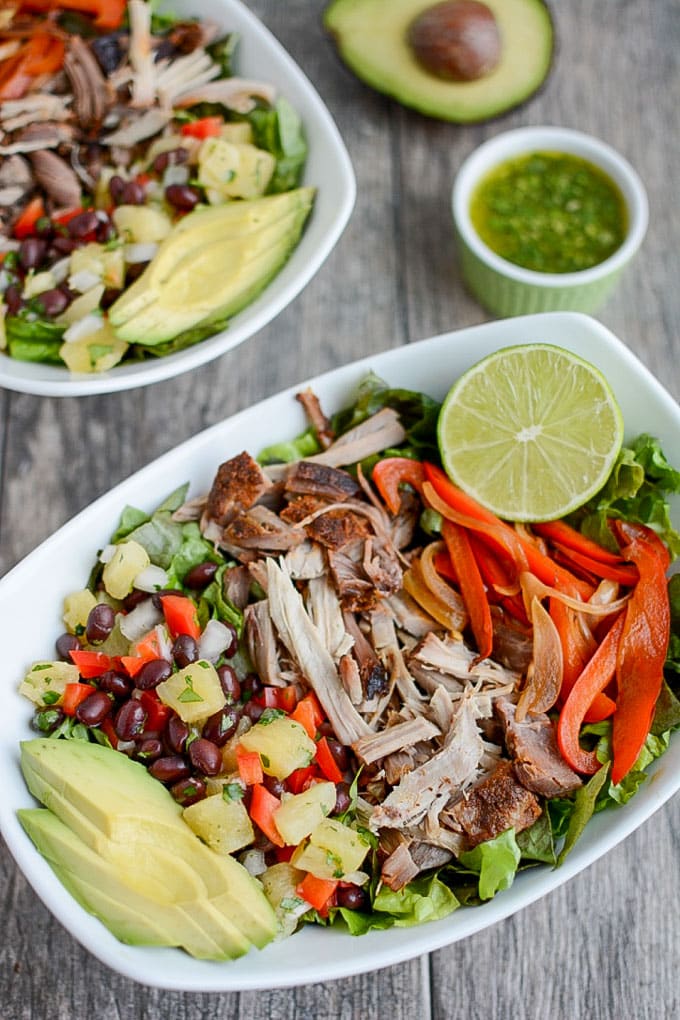 This fantastic Pulled Pork Fajita Salad from The Lean Green Bean is the perfect way to transform leftover pulled pork into a healthy new lunch or dinner. A pineapple black bean salsa and a light cilantro-lime dressing add extra flavor!
Click here to get the recipe!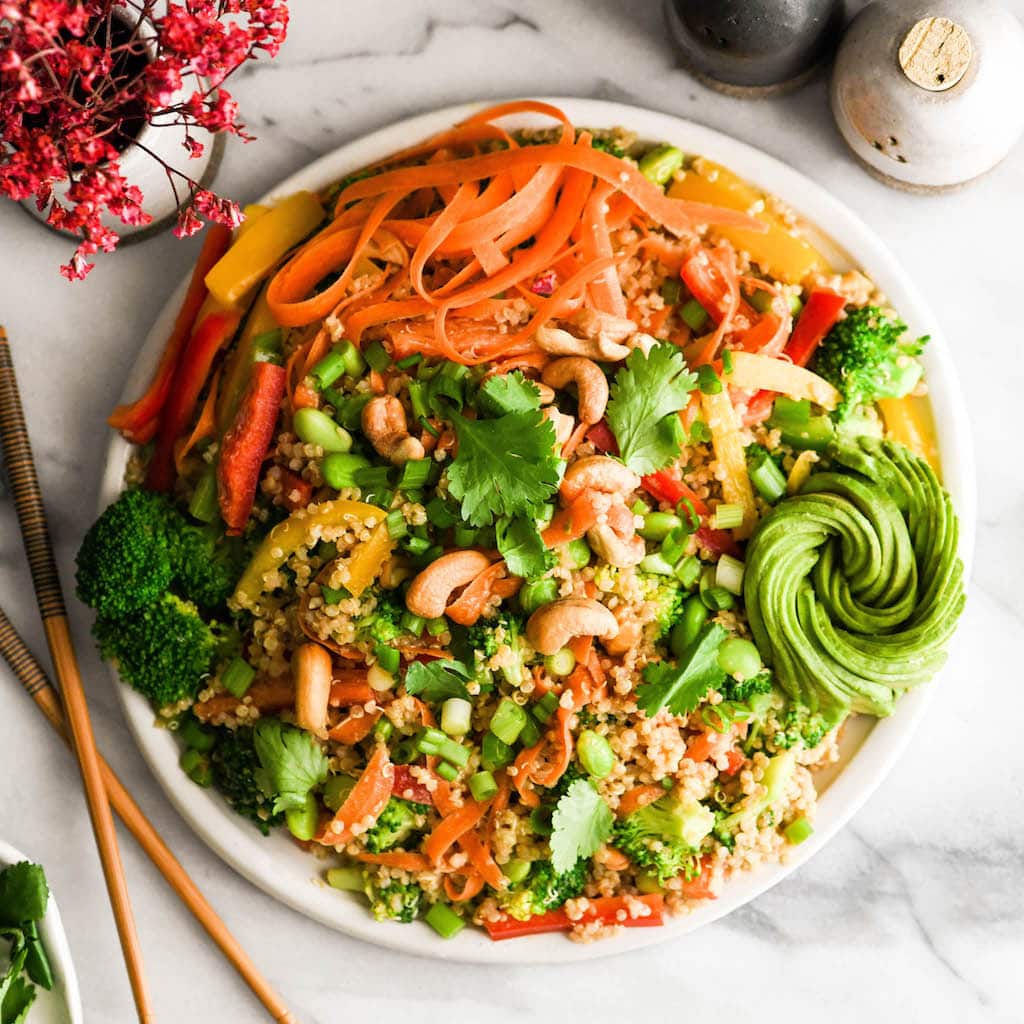 Say goodbye to run-of-the-Mill, ho-hum salads, and say hello to this Asian Quinoa Salad with Peanut Dressing from Joy Food Sunshine. This plate full of plants is anything but boring!
Click here to get the recipe!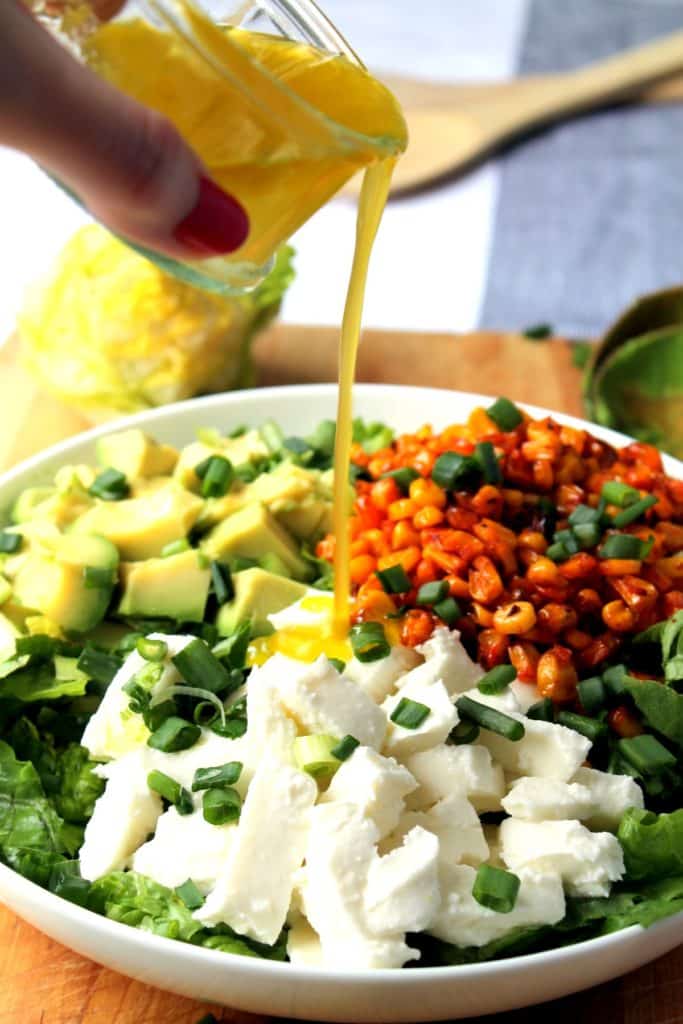 Happy Veggie Kitchen's quick and easy way to make roasted corn salad! Canned corn is roasted in the oven with smoky spices and added to a crunchy, fresh salad with creamy mozzarella and avocado and a honey lime dressing. Refreshing and vibrant, full of different textures and flavors, this tastes amazing with Mexican food or as a whole meal in itself.
Click here to get the recipe!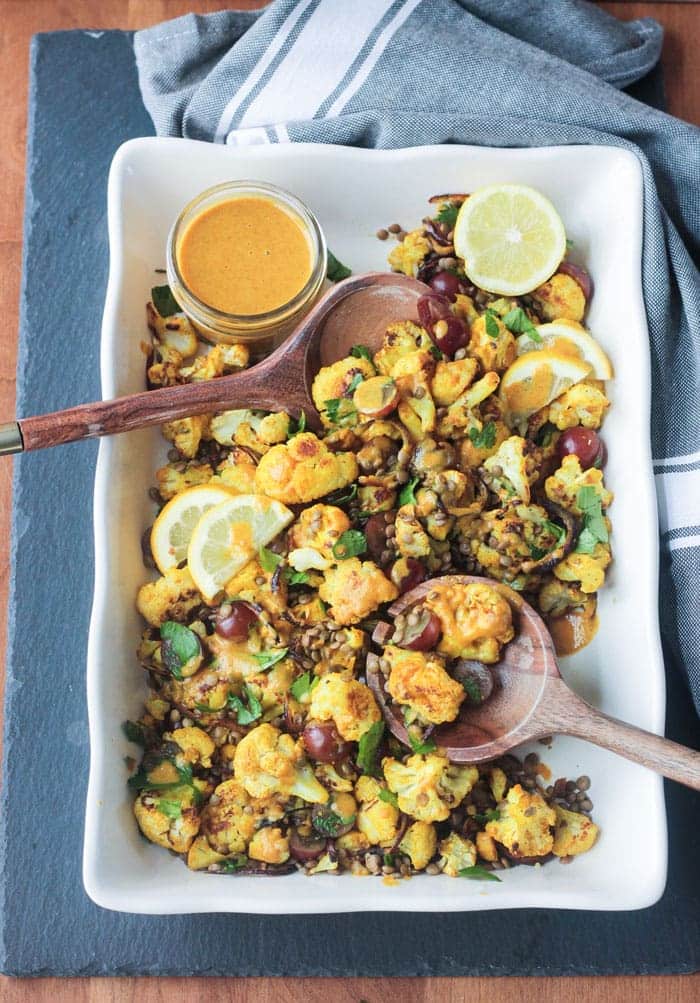 Roasted Cauliflower Salad from Veggie Inspired! Cauliflower tossed with turmeric & curry powder, roasted until tender and golden, and then tossed with protein-packed lentils and sweet, juicy grapes. It's flavor and texture dynamite!
Click here to get the recipe!
This Greek Spiralized Cucumber Salad from Peas and Crayons features cucumber noodles for a sassy spiralized salad that's refreshing and delicious!
Click here to get the recipe!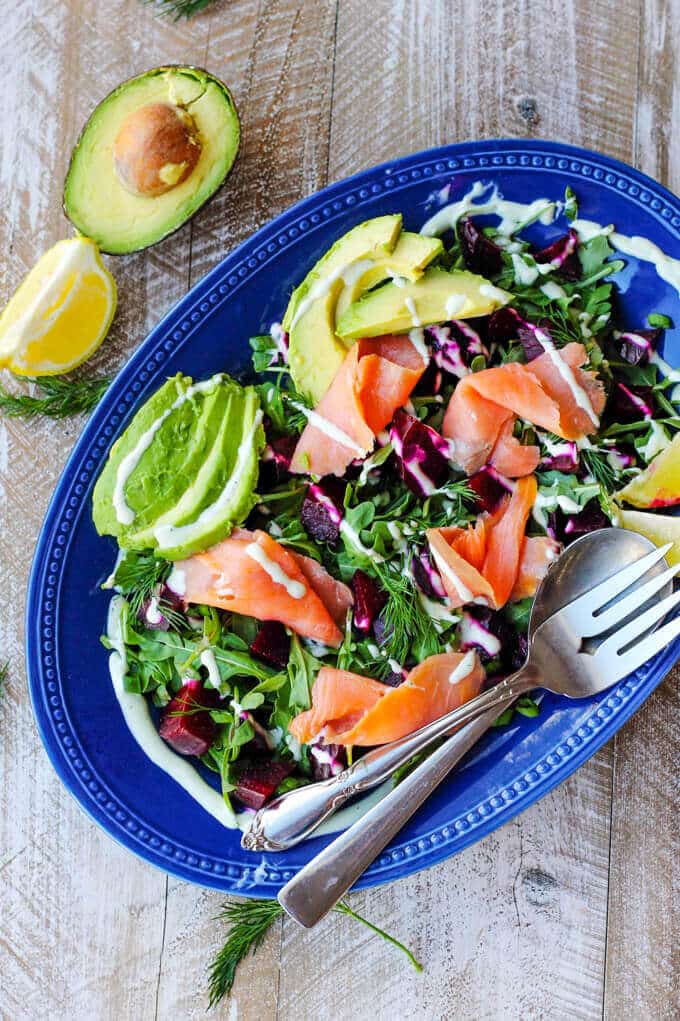 This Smoked Salmon and Roasted Beets Salad with a Goat Cheese Dressing from Innocent Delight is super nutritious with simple elegance. It can be served for lunch or light dinner and for sure it will please your guests.
Click here to get the recipe!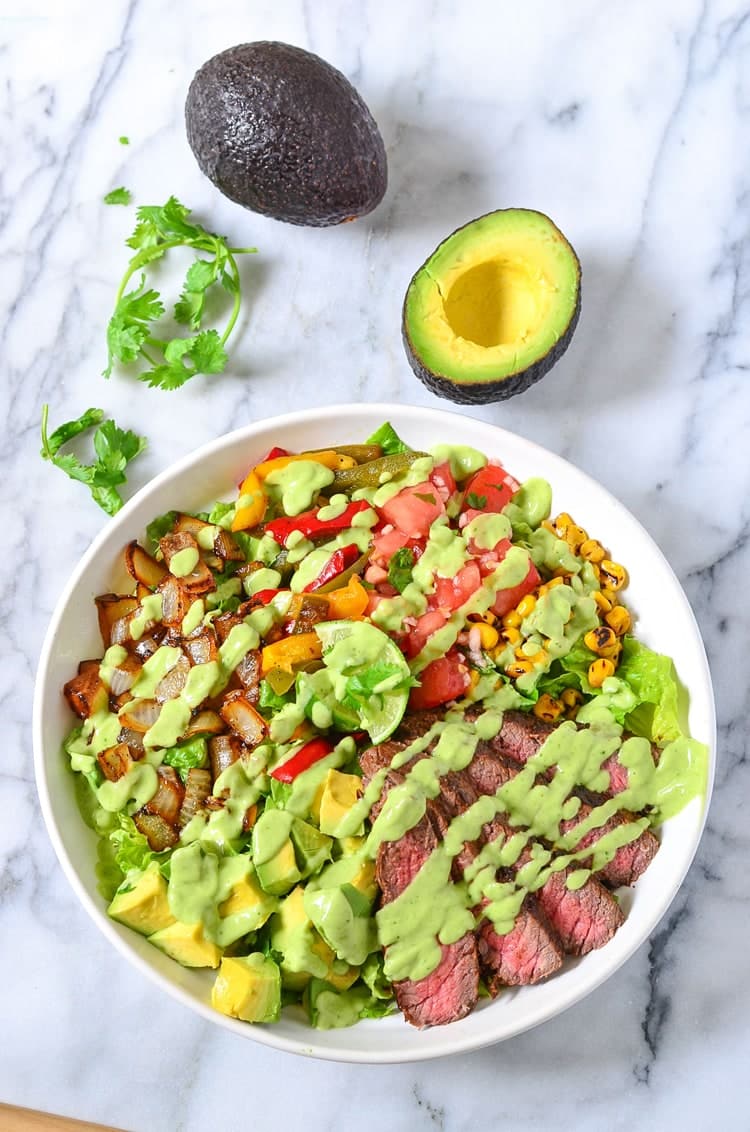 This Steak Salad from Courtney's Sweets is filled with grilled vegetables, ripe avocado, and a homemade cilantro lime dressing. Plus a tutorial on how to tell if an avocado is ripe!
Click here to get the recipe!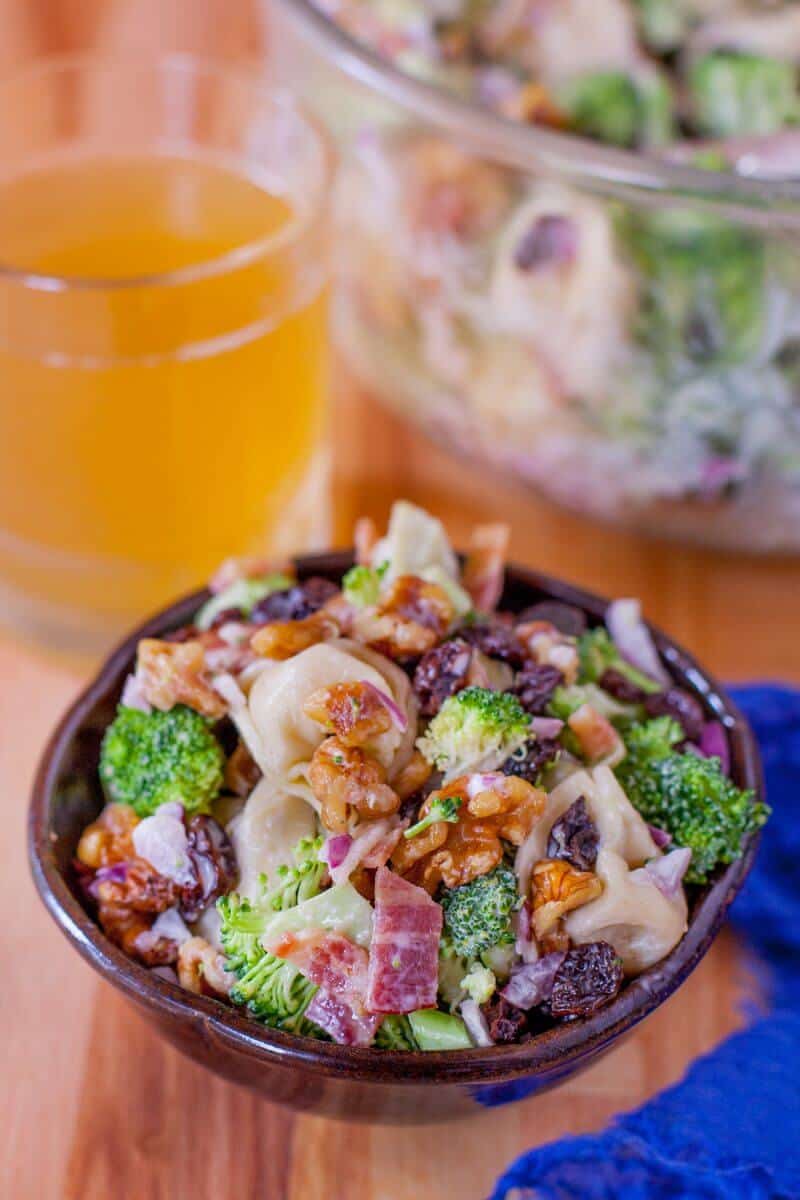 This creamy Broccoli Tortellini Salad from Eating Richly is a big step up from your average broccoli salad! Featuring walnuts and bacon, it's perfect for potlucks and parties, but also makes a complete meal for family dinner!
Click here to get the recipe!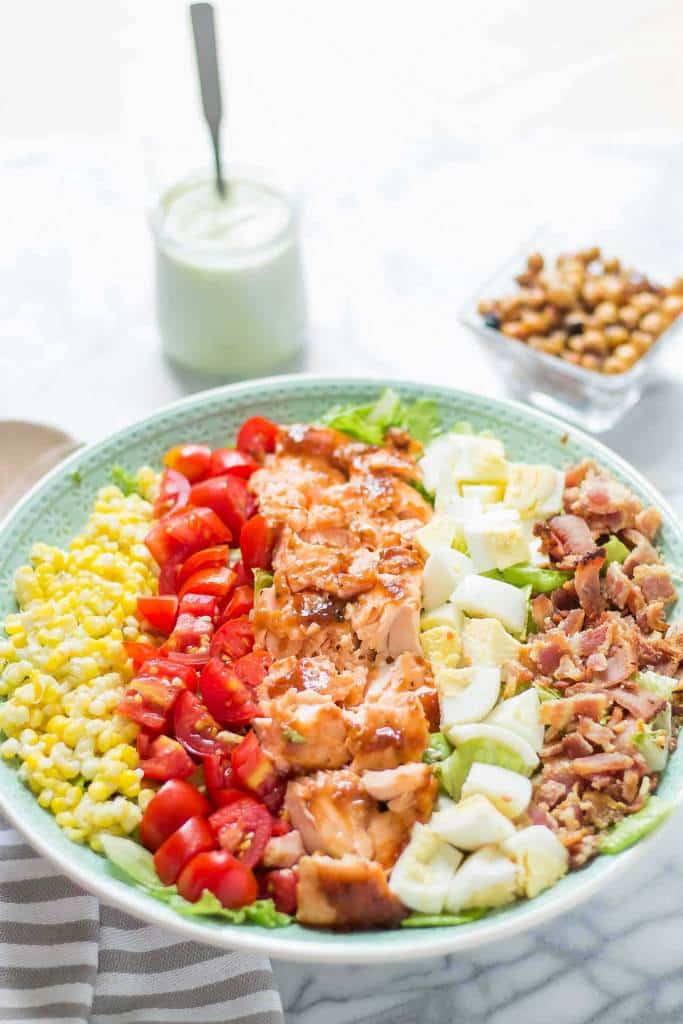 BBQ Salmon Cobb Salad with Avocado Ranch Dressing from Strawberry Blondie Kitchen is bursting with flavors to savor summer! Topped with a delicious crunch from ranch flavored chickpeas it's sure to be your next favorite salad!
Click here to get the recipe!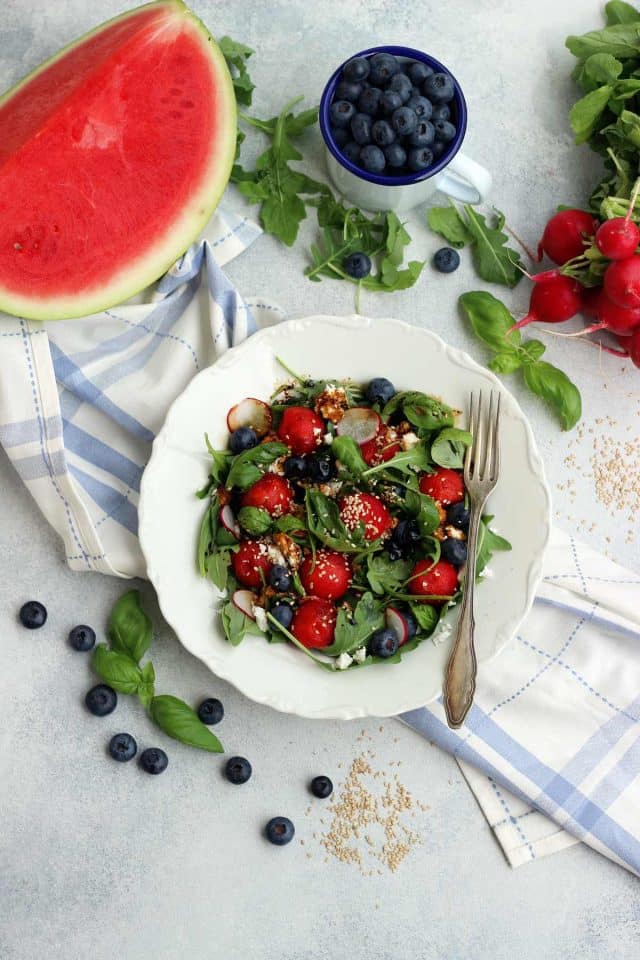 Refreshing Watermelon Feta Salad with Blueberries from Happy Kitchen.Rocks: A 15 minute colorful summer salad recipe with Asian-style vinaigrette. Perfect watermelon feta salad for a hot summer day!
Click here to get the recipe!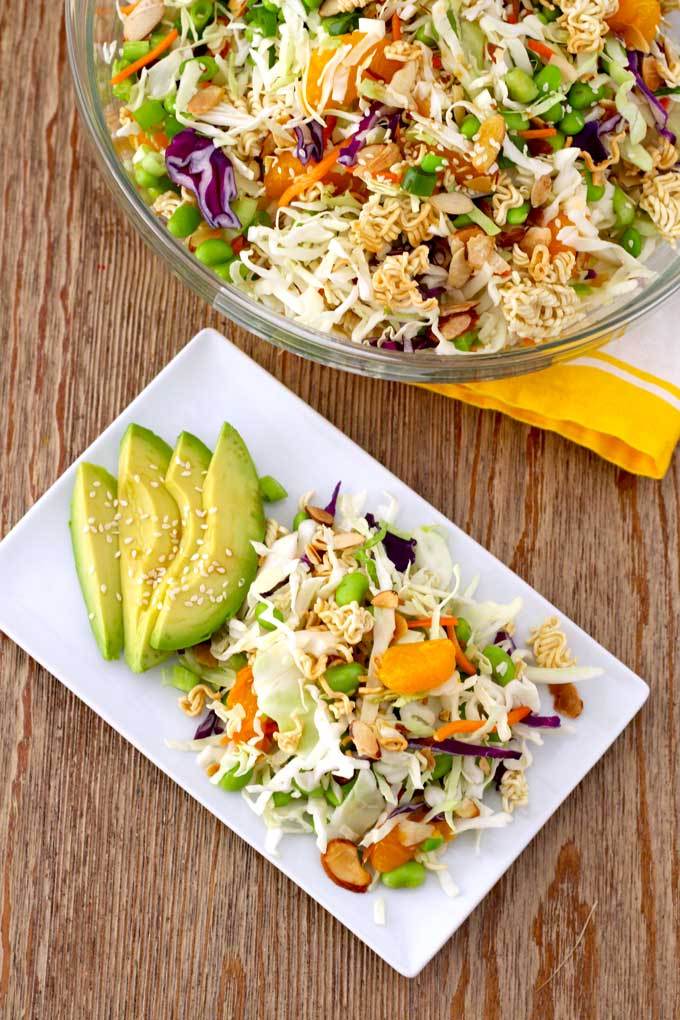 Tossed in a flavorful Asian Sesame vinaigrette, this Crunchy Asian Ramen Noodle Salad from Lemon Blossoms is a great addition to any meal, get together, or potluck!
Click here to get the recipe!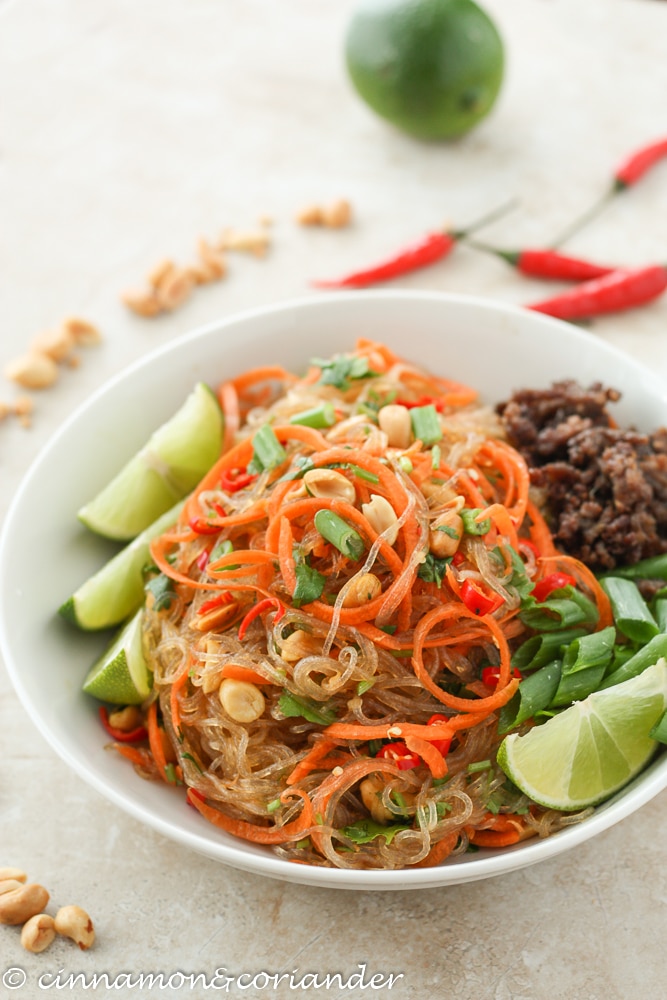 This Yum Woon Sen is a refreshing Thai Glass Noodle Salad from Cinnamon and Coriander with fresh chopped vegetables, herbs and a zingy Ginger Lime Dressing. Fans of Thai Cuisine will love this quick and healthy recipe!
Click here to get the recipe!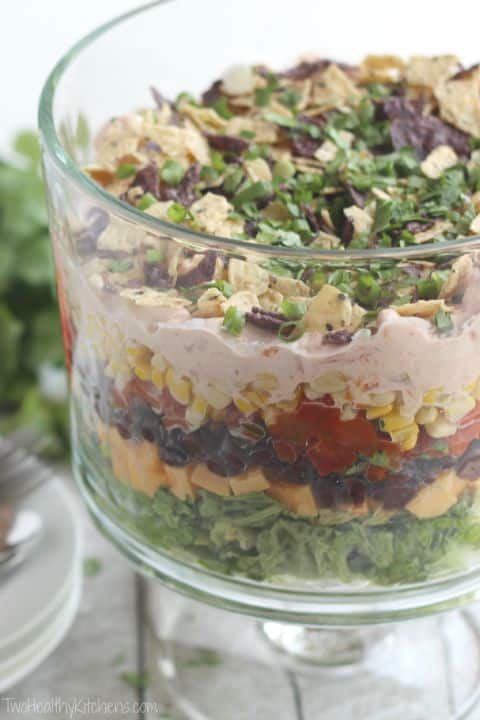 This showstopper 7-Layer Chicken Taco Salad from Two Healthy Kitchens takes those potluck-classic layered salad recipes to whole new heights (literally!). Piled high in a trifle bowl, it'll be the "Oooooh … who made that?" hit of the picnic. So simple that you can even make it for weeknight dinners!
Click here to get the recipe!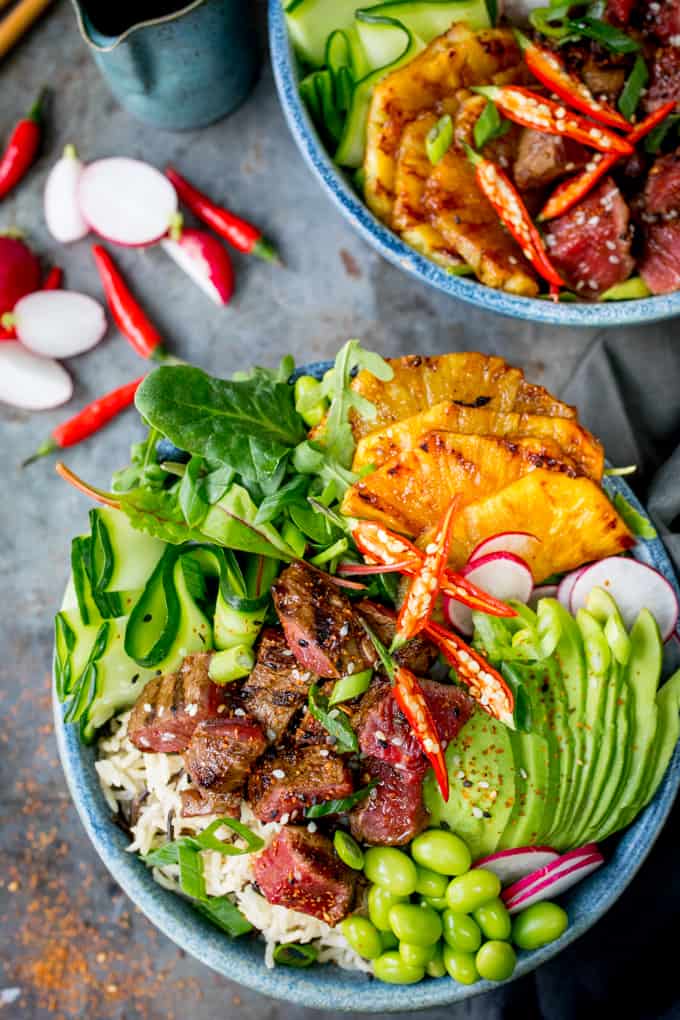 This poke bowl from Kitchen Sanctuary features cubes of marinated fillet steak, seared to smoky/juicy perfection and served alongside rice, avocado, crunchy veggies and caramelized pineapple slices. All finished off with a lightly spicy, garlicky dressing.
Click here to get the recipe!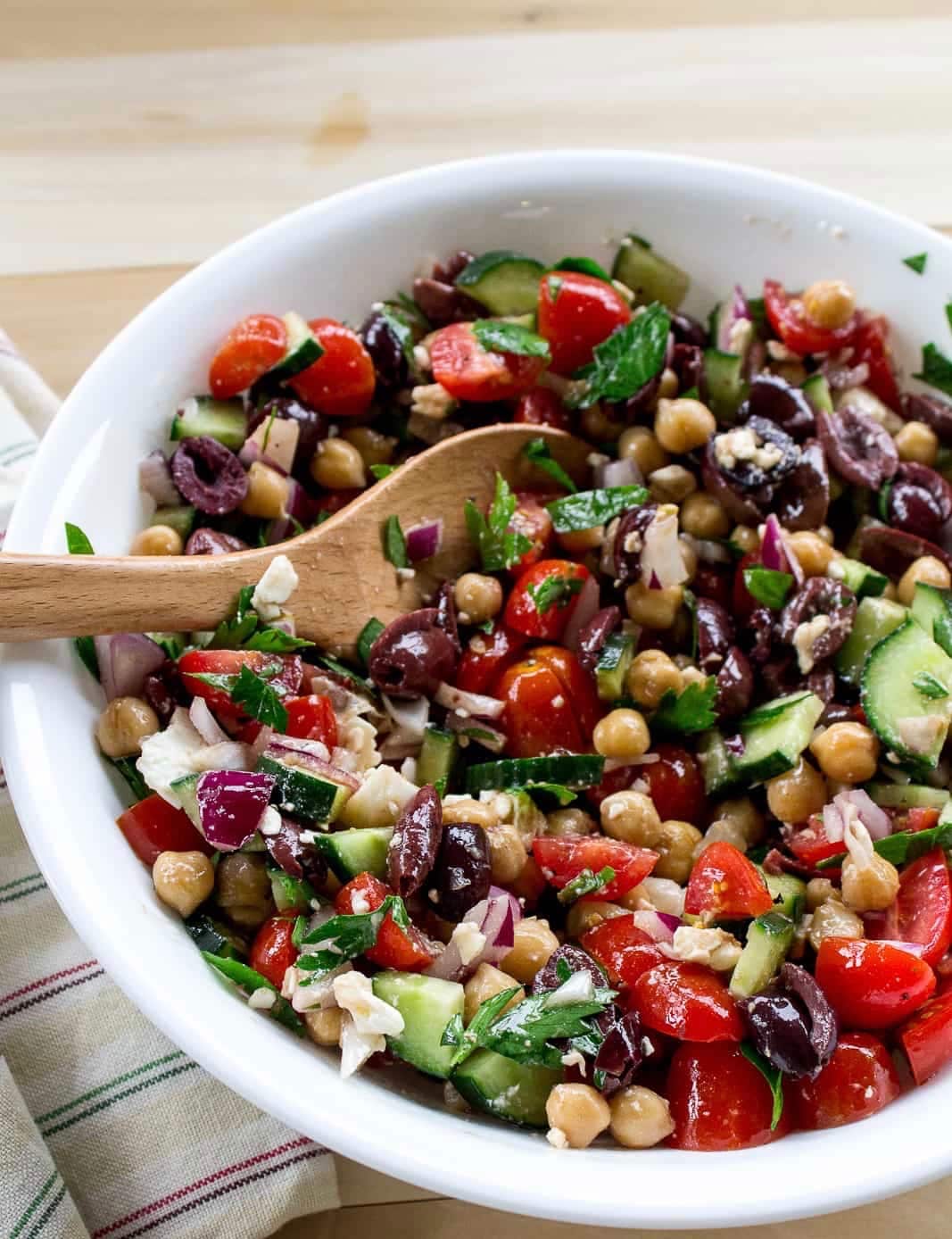 Mediterranean Chickpea Salad from Vegetarian Mama is a delicious meal that can be prepped ahead of time. One bite and you'll be hooked!
Click here to get the recipe!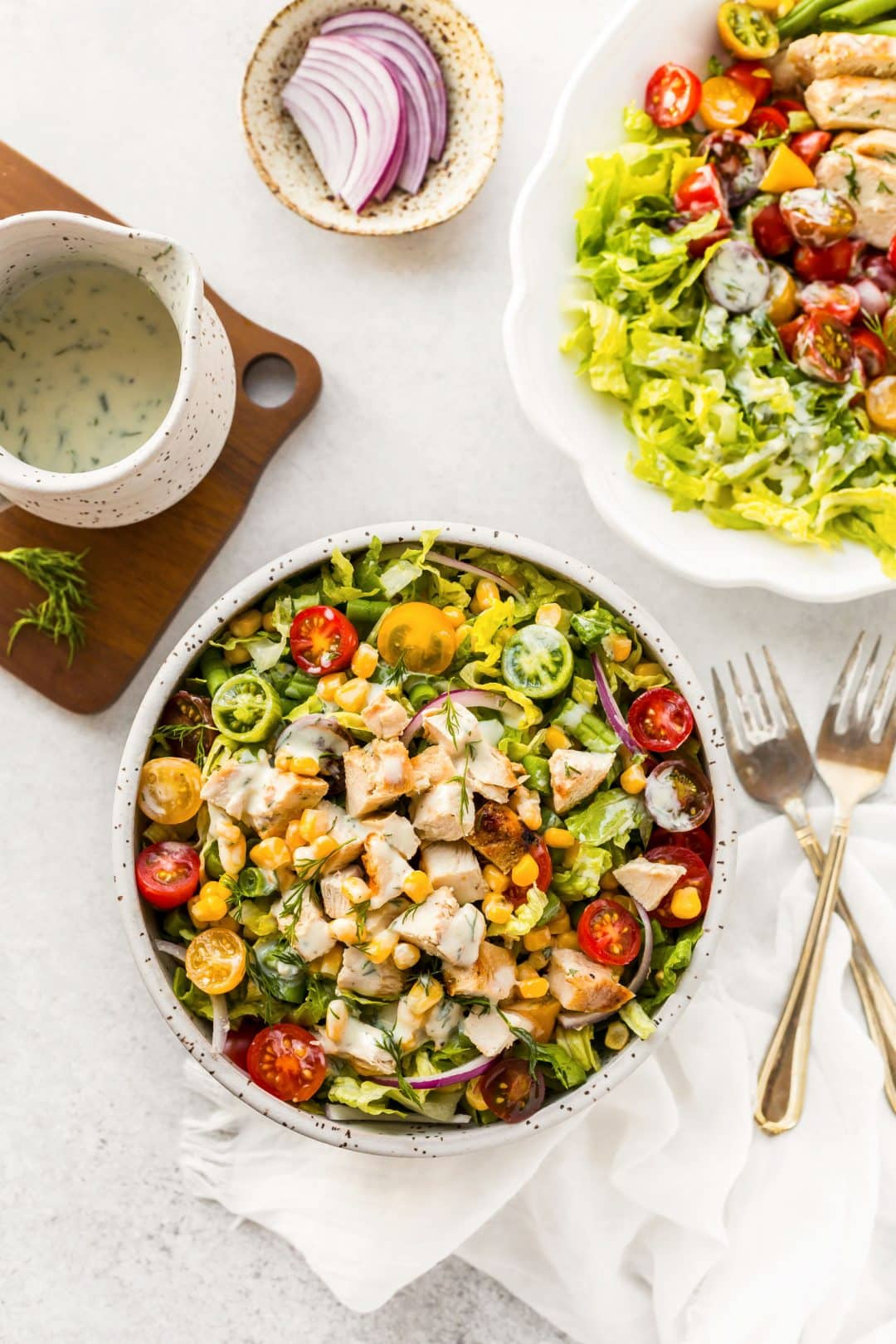 Garden Fresh Salad with Grilled Chicken and Buttermilk dressing. This healthy recipe from Posh Journal will provide a good amount of fibre and protein to your low carb diet plan. If you are looking for healthy lunch recipes, this easy simple salad recipe is for you!
Click here to get the recipe!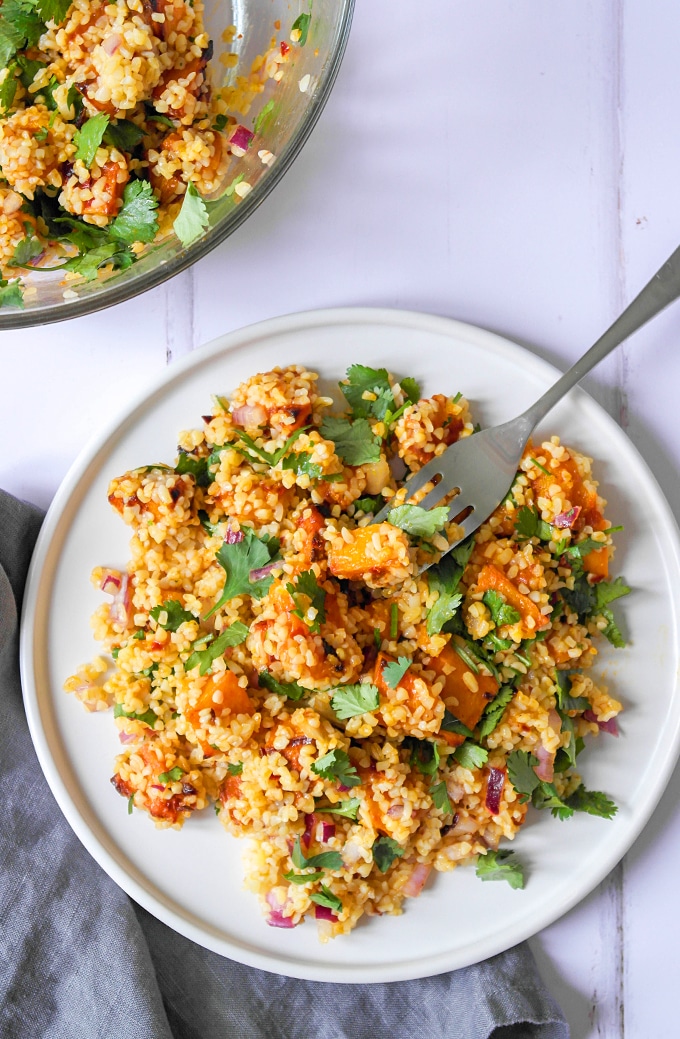 This recipe comes from Don't Feed After Midnight! Fiery and sweet roasted butternut squash is combined with the freshness of red onion, lemon and coriander in this nourishing and scrumptious Bulgur Salad.
Click here to get the recipe!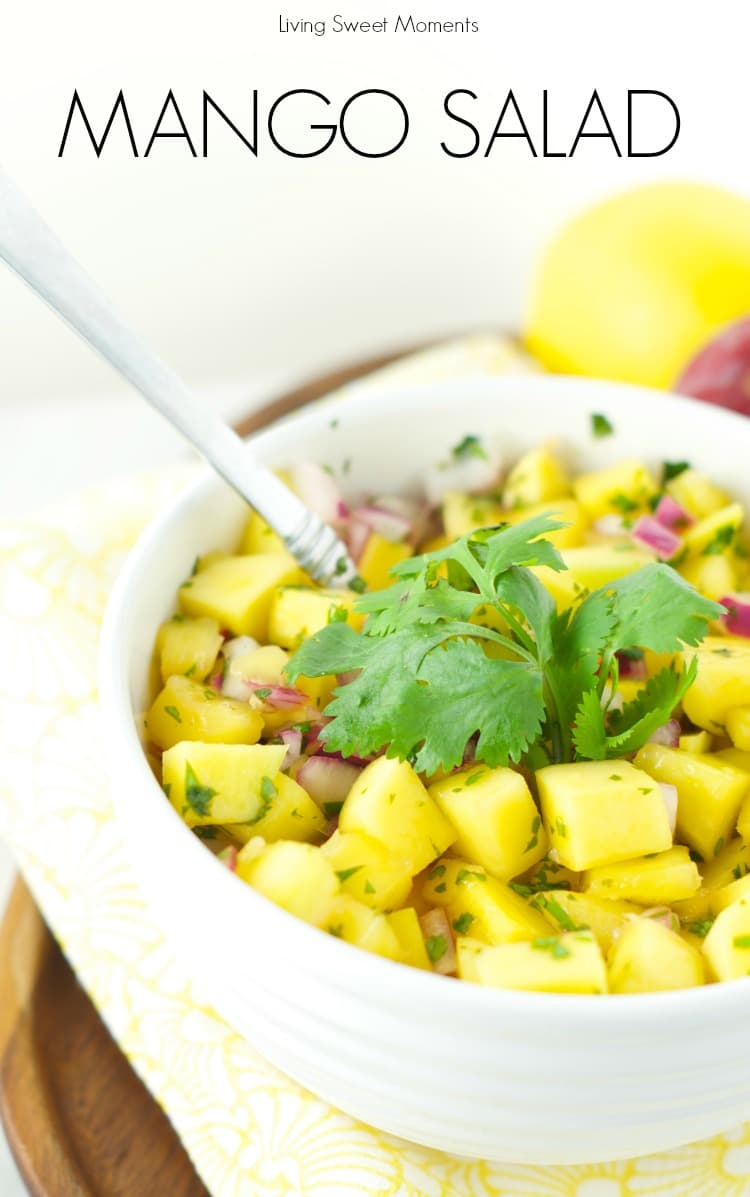 Just 4 ingredients, this mango salad from Living Sweet Moments is the perfect summer recipe for the outdoors. Easy to make and delicious. Serve it as an appetizer, salad or even as a salsa with chips.
Click here to get the recipe!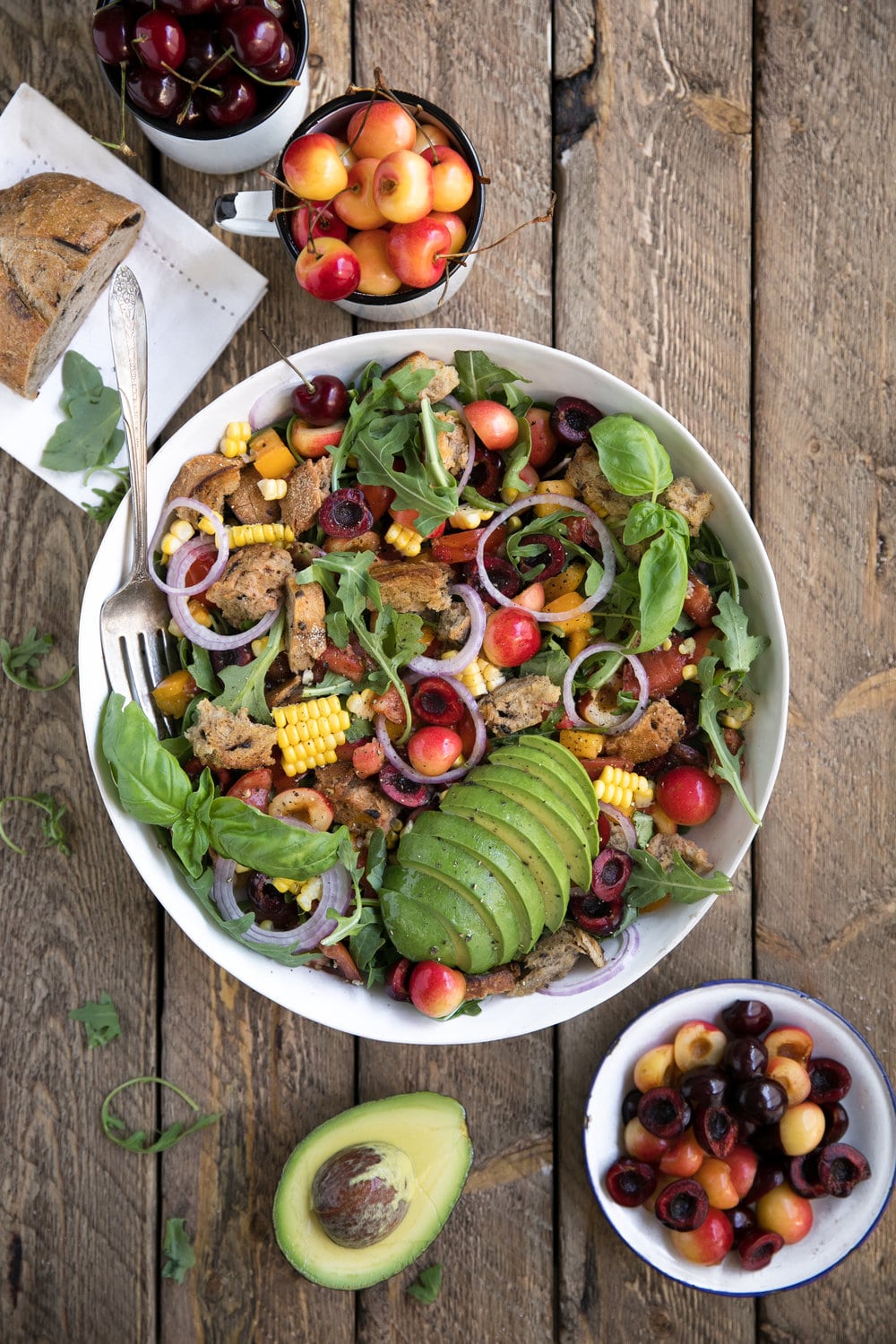 Fresh sweet cherries, summer corn, spicy rocket, the juiciest heirloom tomatoes and fresh olive bread. The best thing you will make all summer from The Forked Spoon!
Click here to get the recipe!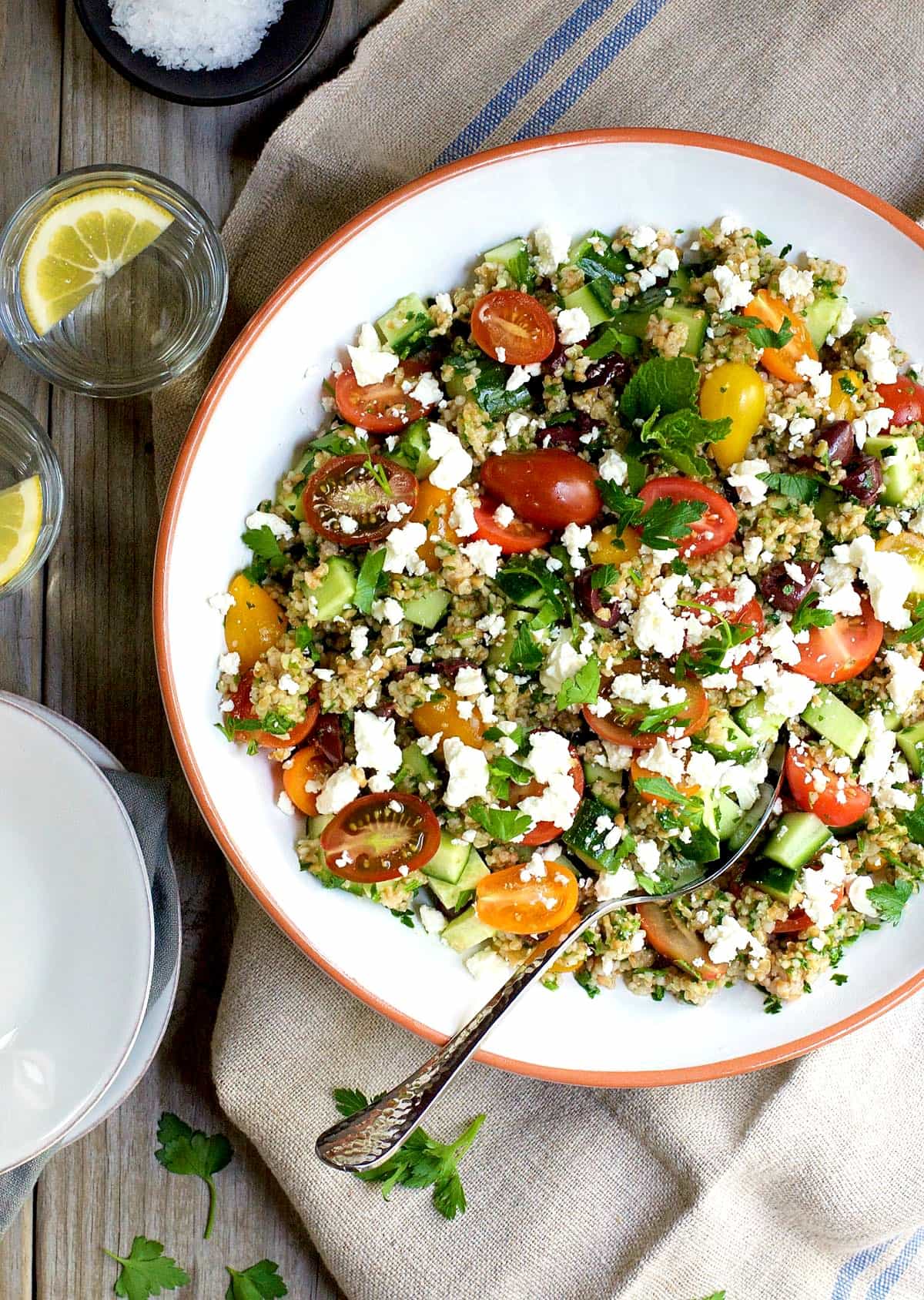 This tabouli salad from Pinch and Swirl is easy to make and absolutely delicious! From crisp cucumber, sweet tomatoes, briny olives and bright parsley, every bite is a little different.
Click here to get the recipe!